ITALY

Destination Italy, a virtual travel guide to "Bella Italia" – beautiful Italy how the Italians often call their country. This page aims to give you a broad overview of Italy's art, culture, people, environment, geography, history, economy and government.
Beside a country profile with facts and figures, the page contains links to sources which provide you with all the information you need to know about this European nation, e.g.: official web sites of Italy, addresses of Italian and foreign embassies, domestic airlines, city- and country guides with extensive travel and tourism information on accommodation, tourist attractions, events and more like weather information, maps, statistics and local newspapers from Italy.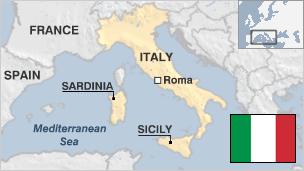 While the country is renowned for these and other delights, it is also notorious for its precarious political life and has had several dozen governments since the end of World War II.
The Italian political landscape underwent a seismic shift in the early 1990s when the "mani pulite" ("clean hands") operation exposed corruption at the highest levels of politics and big business. Several former prime ministers were implicated and thousands of businessmen and politicians were investigated.
There were high hopes at the time that the "mani pulite" scandal would give rise to a radical reform of Italian political culture, but these hopes were dashed when the old structures were replaced by a new political landscape dominated by the multi-millionaire businessman Silvio Berlusconi, who himself became increasingly mired in scandals and corruption affairs